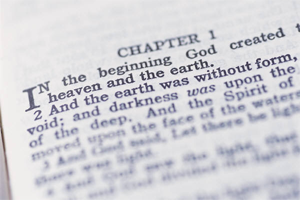 Everything that we believe and teach at Heritage Presbyterian Church comes from one source, the book called the Bible.  The Bible is actually a collection of 66 books spanning thousands of years, multiple authors, and a variety of genres.  The majority of the Bible is historical narrative, recording God's grand plan of creation and redemption from the far distant origins of all things (see Genesis 1 & 2) to the yet to be unfolded restoration in what's called the new heavens and the new earth (see Revelation 21 & 22).
Though the Bible had many human authors, and though the writings' dates have a wide range, there is a perfect consistency between each piece that holds the whole collection together as one story, the story of us all.  This internal consistency speaks to one important teaching that the Bible affirms about itself, that "All Scripture is breathed out by God…" (1 Timothy 3:16) and that none of these writings were "…ever produced by the will of man, but men spoke from God as they were carried along by the Holy Spirit." (2 Peter 1:21)
That is to say, we believe that writings of both the Old and New Testaments are the infallible Word of God, inspired by His Holy Spirit.  In them we learn all that we need concerning who God is and what He expects from us, His creation.
Click here
to submit questions or set up an appointment to learn more about the Bible.
Click here
to read and search the Bible, at
https://www.biblegateway.com
.